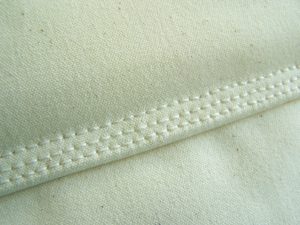 Our Prospector Style tents are designed for use with an external frame and are suitable for 3 season use.
The tent is reinforced at the peak and eaves with webbing to ensure maximum strength for mounting. Stainless Steel Grommets are installed every 2′ along these strips as well as along the base perimeter for mounting it to your platform. All interior stress points are reinforced to ensure that the tents will hold up to strong winds.
We use only premium grade 100% canvas fabrics in our construction and all seams are triple stitched to ensure a strong and lasting use.
These tents are available in the two following fabrics:
Natural 10 oz canvas

Natural 10 oz canvas which has not been treated to repel water and has a shrinkage factor of up to 10%

Fire Retardant 10.10 oz Army Duck Sunforger canvas

Fire Retardant 10.10 oz Army Duck Sunforger canvas which has both a tighter weave than natural canvas and is also treated to be water and mildew resistant while retaining its breathability.This fabric has only a 2% shrinkage factor.
| Sizes | Natural Canvas | Fire Retardant Sunforger Canvas |
| --- | --- | --- |
| 8′ x 10′ x 4′ x 7′ | #0020 | #0001 |
| 10′ x 12′ x 4'x 7′ | #0021 | #0002 |
| 12′ x 14′ x 4′ x 7′ | #0022 | #0003 |
| 14′ x 16′ x 4′ x 7.5′ | #0023 | #0004 |
| 16′ x 20′ x 4′ x 8.5′ | #0024 | #0005 |
| 10′ x 12′ x 5′ x 8′ | #0025 | #0006 |
| 12′ x 14′ x 5′ x 8′ | #0026 | #0007 |
| 14′ x 16′ x 5′ x 8.5′ | #0027 | #0008 |
| 16′ x 20′ x 5′ x 9.5′ | #0028 | #0009 |
| 14′ x 16′ x 6′ x 9.5′ | | #0029 |
| 16′ x 20′ x 6′ x 10.5′ | | #0030 |
*Custom sizes available upon request